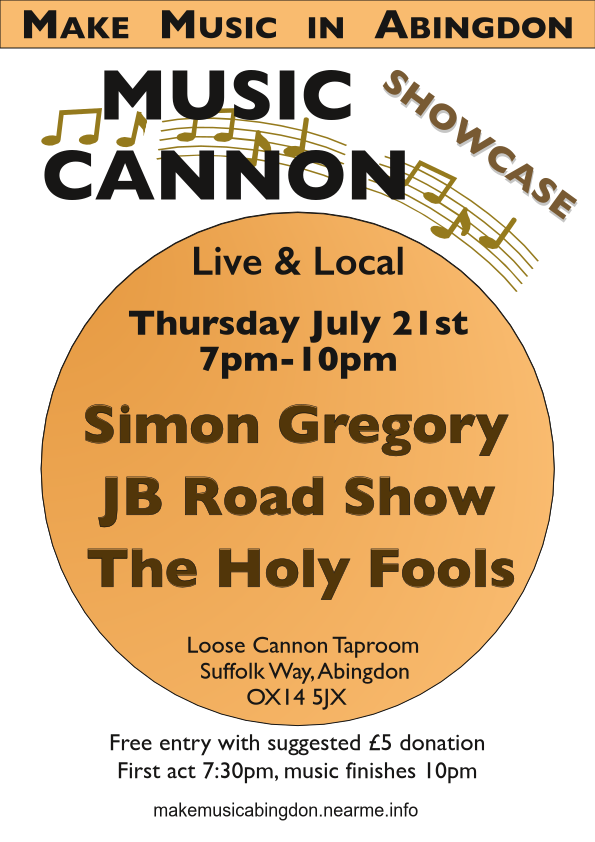 Our 4th Cannon Showcase of the year takes place on Thursday July 21st  at  the Loose Cannon Brewery Taproom  from 7pm until 10pm.
This month's performers are:
Simon Gregory: Simon is frontman with popular Oxfordshire rockers Innuendo, but this evening he will performing some of his own original songs.
JB Road Show: Duet with vocalist and songwriter Jaci (who you may know as the landlady at Abingdon pub & music venue The Old Anchor), with guitar accompaniment from Abingdon guitarist Bryan Vaughan, who you will have seen in Hippy Haze and last month's showcase band Hazy Soul.
The Holy Fools: Combining deep traditional roots with cosmopolitan sensibilities to craft a distinctive brand of Americana. An Oxford-based band, the Holy Fools feature three seasoned veterans of the UK music scene – Jim Driscoll on lead guitar, Harry Brzezinski on dobro and Jason Neil on stand-up bass – breathing fiery life into original songs by lead singer Chris Floyd, drawn from his background in the hills and valleys of rural Tennessee and various sojourns around the world.
Food will be available from the Feast Queens, who are wild for flavours from the East & West, using herbs & spices to create tantalising dishes
Music will start promptly at 7:30pm and finishes strictly at 10pm due to the taproom's license. Please arrive early as all the performers deserve a good audience. You can just turn up on the night or reserve a  table.