Your Music Showcase #3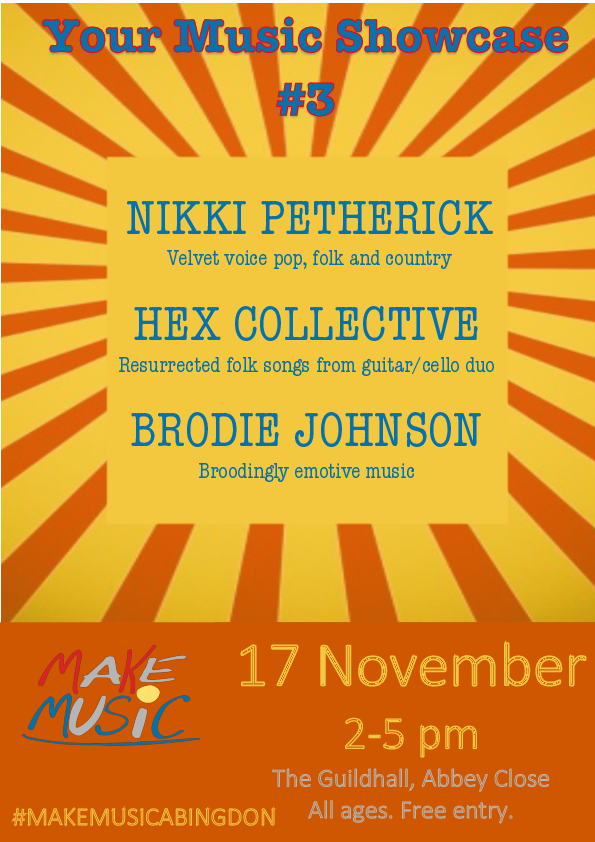 Nikki Petherick
Nikki Petherick is a singer songwriter from Oxfordshire, UK. She is a regular performer in Oxfordshire and the surrounding counties. Her influences range from legends such as Mark Knopfler and Dolly Parton to newer songwriters such as Lori McKenna and Jason Isbell. Nikki's self-titled first EP was self-released and made it to number 4 on the iTunes country chart. She has recently signed to BFS records and is currently working on her third EP.
Listen to some of her music here
Hex Collective
Guitar/cello duo Hex Collective are resurrecting lost folk songs from the Upper Thames, they perform songs based on words collected a century ago by the poet and folk song collector Alfred Williams from villages in Gloucestershire, Wiltshire, and Oxfordshire. The words preserved in the archive provide a remarkable window on the lives and pre-occupations of ordinary people in the still largely rural communities which were the source of Williams' material. We have left the words largely untouched, but have made no attempt to make the music sound of the period, happily incorporating styles, such as reggae, unknown to the Edwardians.
Find some of their music here
Brodie Johnson
Brodie Johnson is a young singer/songwriter based in Abingdon. Influenced by the likes of Laura Marling, Margaret Glaspy and Placebo, her music has been described as 'broodingly emotive'. A regular performer at Cornerstone Open Mic night, Brodie has had a slot on the Beer and Music Festival stage at Cornerstone for the last two years. In 2018 she opened the Didcot Business and Community Awards and in 2017 supported folk singer Robert Lane organised by Big Ginger Tom Music.
Her music is available on SoundCloud under the title 'Girls in Lines':
About Your Music Showcase Abingdon
Make Music Abingdon wants to encourage music making in Abingdon! That's our main purpose really.
Therefore we have started a monthly Your Music Showcase Abingdon (YMSA) event on a Sunday afternoon, with 2-3 featured acts who will present some of their original songs to an attentive and friendly audience.
We will present a variety of genres, instruments and ages, and we hope you will help us spread the word and encourage local music makers to get in touch.
It takes place in The Old Magistrate's Court in The Guildhall, Abbey Close.
The event is FREE and for all ages. We encourage donations to help pay for the room hire and to split between artists.
There is a bar/cafe.
See the Facebook page for more details