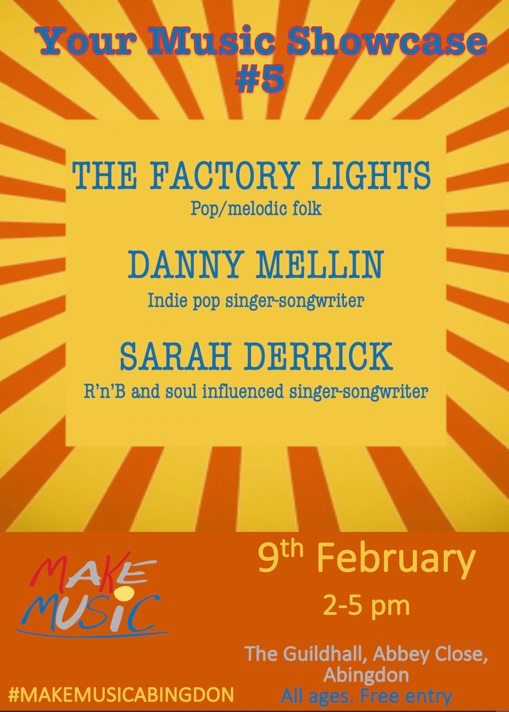 Our first showcase of 2020 has three local Oxfordshire acts on the bill, and we look forward to an afternoon with The Factory Lights, Danny Mellin and Sarah Derrick.

Free entry. Donations welcome.

There is a bar/café.
Meet the first artist:
Sarah Derrick Music is a 24 year old singer-songwriter making waves performing around Oxfordshire. Her combination of vocals and percussive guitar take influence from pop, R'n'B, soul and country which she blends to create a unique and infectious sound. You can expect powerful, passionate vocals, meaningful and frank lyricism, and melodies that you will be replaying in your head long after she is finished.
Listen to Sarah's latest single here: https://open.spotify.com/album/0qfrtG2hMseuoOEQBygBIy…

Our second performer on Sunday:
Young singer/songwriter Danny Mellin hails from Oxfordshire and started writing music at a very young age, releasing his first song 'Without You' at just 14 years old. Delivered with a strong vocal, Danny's songs range from acoustic ballads to melodic indie pop anthems full of youthful energy.
Listen to some of Danny's music here: https://open.spotify.com/album/3yvY2nIvYPSSGmWCANXMCD

Finishing off on Sunday: The Factory Lights
The Factory Lights is a spin off project by Ant Kelly (The Shapes) singing soft gentle songs about life on the Cowley Road and Growing Older. They released an EP in 2015 titled The Old School Wall and are now recording their debut album.
Listen to The Old School Wall here: https://www.youtube.com/watch?v=NcZl1R3lGXc