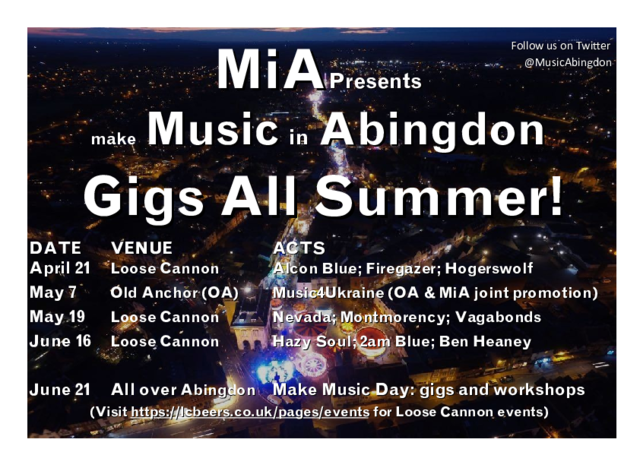 We are back again with a summer of events.
Monthly showcase events will take place at the Loose Cannon Taproom on the 3rd Thursday of every month. These provide an opportunity for local performers to showcase their original or unusual covers to an attentive audience, and for local live music lovers to experience some new music. Doors open at 7:30pm with first act starting soon after, so please arrive early to catch all the performers. Entrance is free, but donations are encouraged to cover the expenses involved in putting on these events. Reservations can be made via the Loose Cannon Taproom web site.
The first event is on 21st April and features:
Hogerswolf : Andy Hogger writes original folklore prog rock inspired songs. His second EP "Catrice & The Others Than They Are" is being launched on 29th April.
Alcon Blue : Brand new 4-piece funk/rock band, serving up soulful song-lead originals
Firegazer : Original alternative folk. Or in the words of Oxford's Nightshift magazine "Dark inventive folk". They have just released a new album New Beginnings which you can find on Spotify
More information will be coming soon about the future dates including Make Music Day on June 21st which will include workshops and performances in the afternoon and gigs in the evening at various venues around town.
Note that acts listed on the poster above are subject to change.
Remember also that Abingdon has a good live music scene
Live music up to 4 times a week at the Old Anchor including open mics, showcases and good local bands and solo performers.
The Brewery Tap has live music every Saturday evening from 9pm and Sundays from 5pm featuring all kinds of styles and genres
Northcourt Music at Abingdon Football club which has top tribute acts and more.
Music at the Unicorn which has a program including some of the UK's top mainly folk based performers.
Other venues include Nags Head (most Friday evenings), Kings Head & Bell (most Saturday evenings), Tipsy Mercer (most Saturday evenings) and occasional gigs at Royal British Legion, Spread Eagle, Broad Face, White Horse.